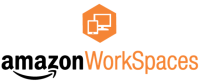 This is very cool. AWS now allows you to host a
cloud desktop environment
. This is one step closer to Bob Cringely's
recent prediction
(and
not so recent predictions
) of obsolete desktops. I will definitely be thinking about this when my next desktop update cycle hits, especially if we can start to figure out how to deal with peripheral devices like printers, USB drives, camera flash memory and largish storage (e.g. for those photos).
Update:
Cringely
picked up on this too
, for his pet application
Mainframe2
.